Why did we ask you to come to this page? Please read further.
Senator Ron Wyden and State-based Universal Healthcare.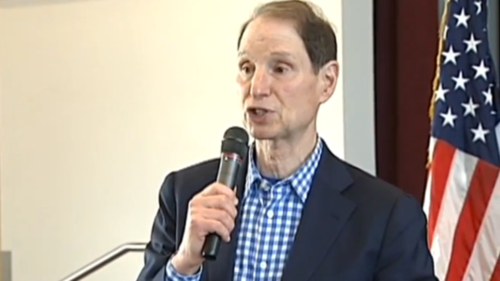 Healthcare in the U.S. is in crisis. At least one in four American families can't get or pay for the health care they need. You may also know from personal experience that our healthcare system is too complex, confusing, and costly. As a result, our longevity and healthcare outcomes are the worst among developed countries. Many thousands of us die or go bankrupt each year because we have inadequate or no health insurance.
One step toward solving our healthcare crisis is simplifying the system into a publicly managed single risk pool and allowing the public to negotiate for a fair price with the pharmaceutical and other health industry companies. There is a bill in Congress to accomplish this, H.R. 1976, the Medicare for All Act of 2021. Senator Merkley and Representatives DeFazio, Blumenauer, and Bonamici support this bill, and we urge you to thank them for their support. But, unfortunately, this bill faces tough opposition from the health care industry.
Many people in many states feel they cannot wait for Congress to act and, while still pushing for a national single payer system, pursue a state-based universal healthcare system as an intermediate step. To allow states to create their universal healthcare systems, Representative Ro Khanna of California, on June 9, 2021, introduced HR 3775, which Oregon's Senator Merkley and Representatives DeFazio, Blumenauer, and Bonamici all support. HR 3775 has a better chance of passage than H.R. 1976.
But the quickest route to achieve the waivers needed by states to create their universal healthcare systems involves the reconciliation process. "Reconciliation is, essentially, a way for Congress to enact legislation on taxes, spending, and the debt limit with only a majority (51 votes, or 50 if the vice president breaks a tie) in the Senate, avoiding the threat of a filibuster, which requires 60 votes to overcome." This process produced the American Rescue Plan Act of 2021 and is available for use one or two more times this year. It can address many issues, such as the needed waivers, under one bill.
The letter below urges Senator Wyden to facilitate the achieving of those waivers through the reconciliation process. As chair of the Senate Finance Committee, Senator Wyden is pivotal to allow this to happen.
Please send a letter to Senator Ron Wyden that is your version of the letter below.
You can email him at https://www.wyden.senate.gov/contact/email-ron
Dear Senator Wyden,
I respectfully urge you as chair of the U.S. Senate Finance Committee to support incorporating key healthcare waiver provisions into the Senate reconciliation bill – enhancements to your state innovation waiver in Section 1332 of the ACA.
Like many Oregonians, we experienced healthcare inequities exposed by the COVID pandemic. The past 16 months reinforce our view that Oregon must support the work of our Joint Task Force On Universal Health Care, charged by the Oregon legislature to create a more equitable and affordable universal healthcare system in our state. We ask you to facilitate additional federal waiver provisions to allow fulfillment of the goals of the Joint Task Force on Universal Health Care.
Your strong leadership that enabled state innovation through Section 1332 of the ACA now leads the way for Oregon to bring high-quality, affordable, health care to all its residents. Recognizing your intent, we urge you to support additional waivers from federal healthcare laws to achieve that purpose. Attached is specific language that we request to be incorporated into the reconciliation bill in the Senate Finance Committee.
These requested waivers, in the spirit of Section 1332, allow individual states that comply with Section 1332 requirements to create statewide universal healthcare plans and still preserve funding from nearly all federal healthcare programs, including Medicare. These waivers also resolve any legal ambiguities under ERISA. These critical changes are necessary for any state to create a high-quality, affordable universal health care system.
Allowing multi-state waiver applications would buttress the efforts in the three West Coast states that are actively working to design and implement universal healthcare systems.
As you know, Section 1332 does not currently allow a waiver of ERISA restrictions on state regulation of employer health plans, nor does it allow a pass-through of Medicare monies and of other federal plans into a statewide healthcare system.
Thank you again for considering these requests, and I look forward to working with you to guarantee high-quality, cost-effective healthcare for all Americans.
Respectfully,
---